Seminar Intercultural Awareness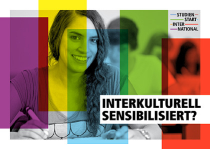 Studying in Germany – as in many other countries – means studying with fellow students from around the world – a great enrichment as well as a challenge.
The first contacts with people from other countries of different backgrounds are often inspiring and fascinating. But when we form study groups at the University, work closely together, have discussions, and exchange ideas, the surprises often accumulate. What seems normal for one person causes uncertainty, irritation, and often misinterpretations in another – and vice versa.
We will explore the reasons for this in a culturally mixed group (max. 18 participants). The aim is to exploit the potential of cultural diversity for effective and successful cooperation. Intercultural competence not only makes everyday life at the University easier, but also ensures success later on in a culturally diverse society.
The seminar is open to students of all Faculties. It is designed interactively, building on a lively exchange of experiences among participants.
Registration:
The seminar is only available during summer semester.

Contents of the Seminar:
clarification of the concept of culture
cultural models
presenting and exploring the concept of "cultural dimensions"
cultural standards and their problems
perception and stereotype
intercultural communication
cultural change
critical incidents: case stories
The seminar is also a building block for the certificate "Intercultural Awareness".
The performance assessment is an essay (3 CP) in addition to regular active participation.
If you have any questions about the course, please contact studienstart-international
verw.uni-koeln.de.