Keio Cologne Lecture Series: Getting Old and Even Older
Pathways to Longevity and Implications for Society

WS 2018/19 | on Wednesdays 10:00 - 11:30 in Cologne in S67, Philosophikum = 18:00 - 19:30 local time in Tokyo/Osaka

Research and Experiences from Japan and Germany
Longevity – one of humankind's all-time goals and desires – turns out to be boon and bane. Japan and Germany are among the countries, where not only individuals tend to get old and older, but the entire society is aging and has to adapt to a substantial demographic change. With a life expectancy of 85 years in Japan and 81 years in Germany and an almost identical average age of 47.2 years of populations in both countries, Japan and Germany share common problems and challenges.
Individual longevity implies an increase of aging-associated diseases, a growing need for age-appropriated environments and living conditions, higher demand of elder care, public health care and pension funds under stress, financial pressure on taxpayers, strain on the labor market and many more issues to be dealt with from medical, political, social, economic and legal points of view.
Both Keio University/Tokyo, and University of Cologne have established "Longevity/Aging" as a transversal topic of interdisciplinary research, to which scholars and scientists from several disciplines contribute cutting-edge research. Both Universities dispose of strong research centers in Life Sciences and in Social Sciences dedicated to Longevity- and Aging-associated issues.
This joint lecture series will present some of their results in a comparative Japanese‑German perspective. Each lecture will be held jointly by a German and a Japanese expert, giving insights into ongoing or recently completed research projects. Students in both countries are invited to interact and actively participate in the discussion by posting comments and questions during the lecture.
While being the first intercontinental joint lecture series with one of University of Colognes "Global Network Partners", this seminar is also a pilot project introducing digital tools into international teaching cooperation.
Lecture coordinator: Dr. Johannes Müller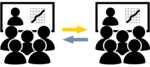 The sessions of this lecture series are held in English by two lecturers each time – one from Tokyo and one from Cologne – brought together via live broadcasting, followed by a Q&A.
Contact
cologne-keio
uni-koeln.de


Introducing Keio and Cologne

Keio:
Today, Keio University is playing a leading role in the academic world, attracting highly talented students and researchers from home and abroad. Looking ahead, it endeavors to make further contributions to society, strengthen its international reputation, and solidify its position as a world-leading research university (source: https://www.keio.ac.jp/en/about/).
Cologne:
From its establishment in 1388, the University of Cologne has been a center of science and scholarship in Europe. Today, it is one of the leading German research universities. We offer an exceptionally broad and diverse subject base to our students and encourage them to follow their own academic interests and to develop both intellectually and personally. We are firmly committed to the advancement of human knowledge through basic research, but also have an eye on transfer and application in the real world. (Professor Axel Freimuth, Rector (https://www.portal.uni-koeln.de/sites/international/aaa/INT/INTpdf/016_Imagebroschuere.pdf)
About Keio University
About CECAD
About ceres
This lecutre series is an expansion of the Keio-Cologne collaboration in this field of research. Early in 2018 CECAD and Keio University already held a symposium on aging and longevity.


Schedule
Subject to changes
Lectures and discussions in English
October 31, 2018 – Opening | Skin Barrier and Its Homeostatic Mechanisms
November 7, 2018 – Aging Successfully and Productively
November 14, 2018 – Advances in the Treatment of Psychiatric Disorders
November 21, 2018 – How to Care for the Elderly?
November 28, 2018 – Disease Prediction of Neurodegenerative Disorders
December 5, 2018 – The Cost of Health
December 12, 2018 – Cardio-Metabolic Memory and DNA Repair/Epigenetic Regulation
December 19, 2018 – Technology to Support the Aging Society
January 9, 2019 – Living Successfully in an Era of Aging
January 16, 2019 – Staying Healthy over the Course of Life
January 23, 2019 – Living Long and Well: Quality of Life and Well-Being of the Very Old
January 30, 2019 – Declined Cognitive Function of Senior Citizens