2nd Cologne Conference on Food for Future 2020
Postponed to 13 - 14 September 2021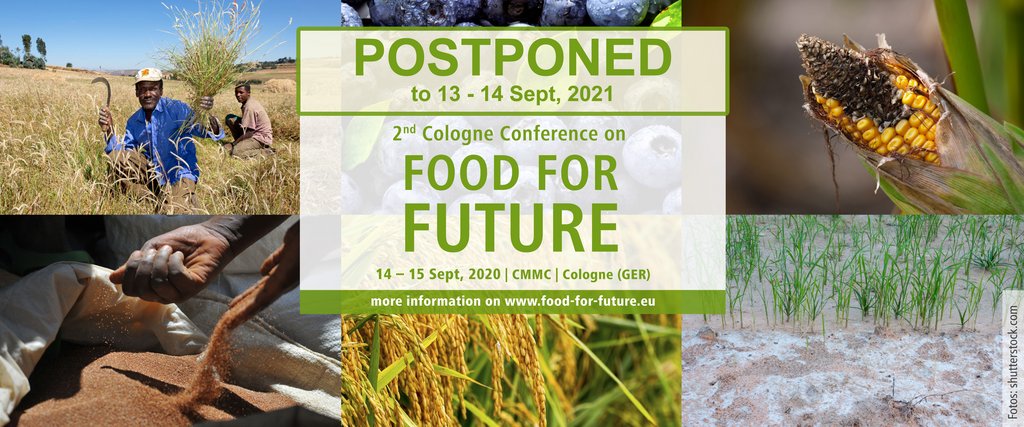 We would like to announce the
"2nd Cologne Conference on Food for Future" to be held between 13 - 14 September 2021 in Cologne, Germany.
The general objective of the conference is to bring together scientists with different expertise to discuss cross-disciplinary aspects of the future of food production, development of new products & processes, land use change in urban and peri-urban agriculture and the impact of development on everyday rural livelihood to ensure global food and nutrition security.
This year's conference focuses on:
Functional Food
Plant-Environment Interactions
Urbanization and Development
Food and Rural Livelihoods
We aim to provide an opportunity for a lively exchange among all stakeholders in the Food Security field.
Find more information on the programme and registration process on our conference webpage: www.food-for-future.eu
The conference is jointly organised by the University of Cologne Competence Area "Food Security" and the Institute of Geography.
Confirmed Speakers
Prof. Amelie Bernzen, University Vechta, Germany
Dr. Christine Bonnin, University College Dublin, Dublin, Ireland
Prof. Aedin Cassidy, Queens University, Belfast, UK
Christine Diepenbrock, PhD, University of California, Davis, USA
Dr. Alexander Follmann, University of Cologne, Germany
Dr. Ellen Mangnus, University Utrecht, Netherlands
Prof. George Owuor, Egerton University, Kenya
Prof. Emile Temgoua, University of Dschang, Cameroon
Prof. Mark Tester, King Abdullah University of Science and Technology, Kingdom of Saudi Arabia
Dr. Mark Vicol, University Wageningen, Netherlands
Prof. Fang-Jie Zhao, Nanjing Agricultural University, Nanjing, China
Organising Committee
Amelie Bernzen
Institute for Spatial Analysis and Planning in Areas of Intensive Agriculture, University of Vechta
Alexander Follmann
Institute of Geography, University of Cologne
Dorit Grunewald
Coordinator Competence Area Food Security, University of Cologne
Timothy Jobe
Botanical Institute, University of Cologne
Stanislav Kopriva
Speaker Competence Area Food Security, Institute for Plant Sciences, University of Cologne
Markus Stetter
Institute for Plant Sciences, University of Cologne
Administrative Support
Elke Henn
Botanical Institute, University of Cologne