Environment, Cities, and Cultures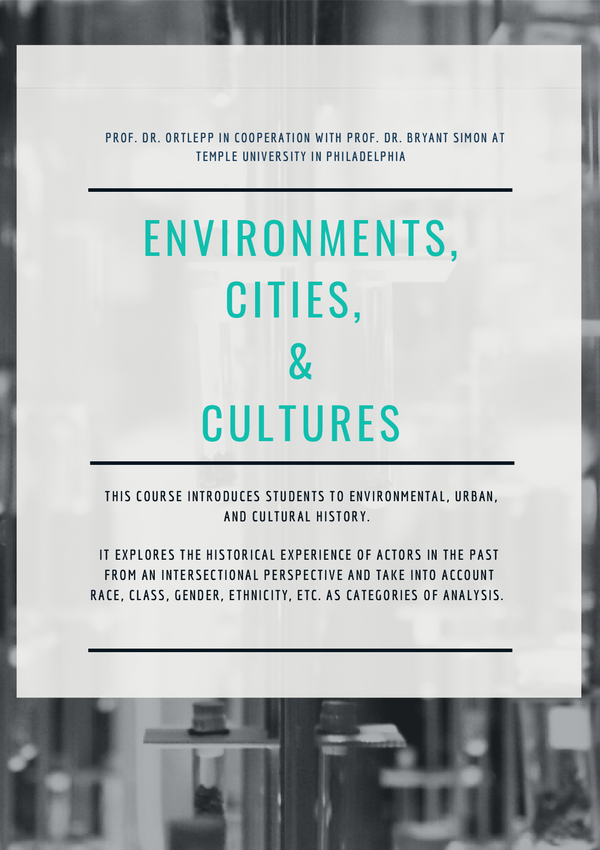 Course Description:
This course introduces students to environmental, urban, and cultural history. Students gain exposure to the span and depth of the fields. The readings offer a global and comparative perspective. Furthermore, students gain an appreciation for various historiographical approaches to studying environments and cities. We will explore the historical experience of actors in the past from an intersectional perspective and take into account race, class, gender, ethnicity, etc. as categories of analysis.
During the first three weeks, students from Philadelphia and Cologne will meet in the classroom to discuss readings and to get to know one another. We will develop theoretical and methodological tools to study cities from a historical perspective and develop an agenda for the class. In the following weeks, the Cologne students will continue to meet online and engage with the American peers on a more informal basis.
Outside of the classroom, we will get together for a number of activities like the Temple University Urban History Workshop and the international conference "Urban Planning in the Americas in the 20th Century".
Our goal is to study US urban history in transnational perspective and to establish a dialogue between graduate in American History at Temple University and the University of Cologne, which will provide the basis for further forms of cooperation.
Interview with participant Julia from the UoC
Response Papers to A.K. Sandoval-Strausz' "Latino Landscapes: Postwar Cities and the Transnational Origins of a New Urban America"
Response Papers to David Harvey "Contested Cities: Social Process and Spatial Form"