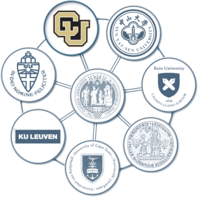 University of Colorado Boulder
The Global Network Partnership between the University of Cologne and the University of Colorado at Boulder was established on 22.11.12. It is the culmination of long standing cooperation agreements between individual disciplines as well as of intensive preliminary talks between the administrations of the two universities initiated at the beginning of 2011. Within the framework of a Global Network Partnership, the universities have the status of being each other's priority partners in the respective countries.
The University of Colorado in Boulder is one of the top 34 American Universities in the ranking of the Association of American Universities; it is also on the list of the so-called Public Ivies which are public schools with academic quality comparable to Ivy League institutions.
The University of Colorado has produced four Nobel Prize winners over the last 25 years and is on place 77 of the Times Higher Education Ranking. There is currently intensive academic and scientific collaboration between the following disciplines and subjects: Political Science (especially European politics), Classical Studies, Anthropology, African Studies, Physics as well as Geophysics and Meteorology.
The collaboration plans include further faculty as well as PhD student exchange programs as well as joint-congresses. Both universities are interested in furthering the cooperation to include new subjects and are united in their support of all initiative projects.